Map Unavailable
Date/Time
Date(s) - 22/10/2018 - 26/10/2018
09:00 - 17:00
Categories
GLC will open Mikrotik double Combo MTCNA + MTCRE  Training In Jogjakarta, Indonesia. If you are interested, you can register on this page or contact admin immediately.
GLC Networks akan menyelenggarakan training MTCNA + MTCRE di Jogjakarta, Indopnesia. Jika berminat silahkan mengisi form registrasi di bawah ini atau jika ada yang ingin ditanyakan, silahkan hubungi admin.
Schedule
MTCNA: 22-24 october 2018 (3 days) click here for MTCNA details
MTCRE: 24-26 october 2018 (3 days) click here for MTCRE details
Registration Procedure:
1. Booking through our website. fill-in registration form on event page
2. Admin will send you an email regarding your booking
3. You transfer Down Payment / full amount
4. Admin will change of the "booking" status become "approved"
5. Pay off the remaining balance in the day of the training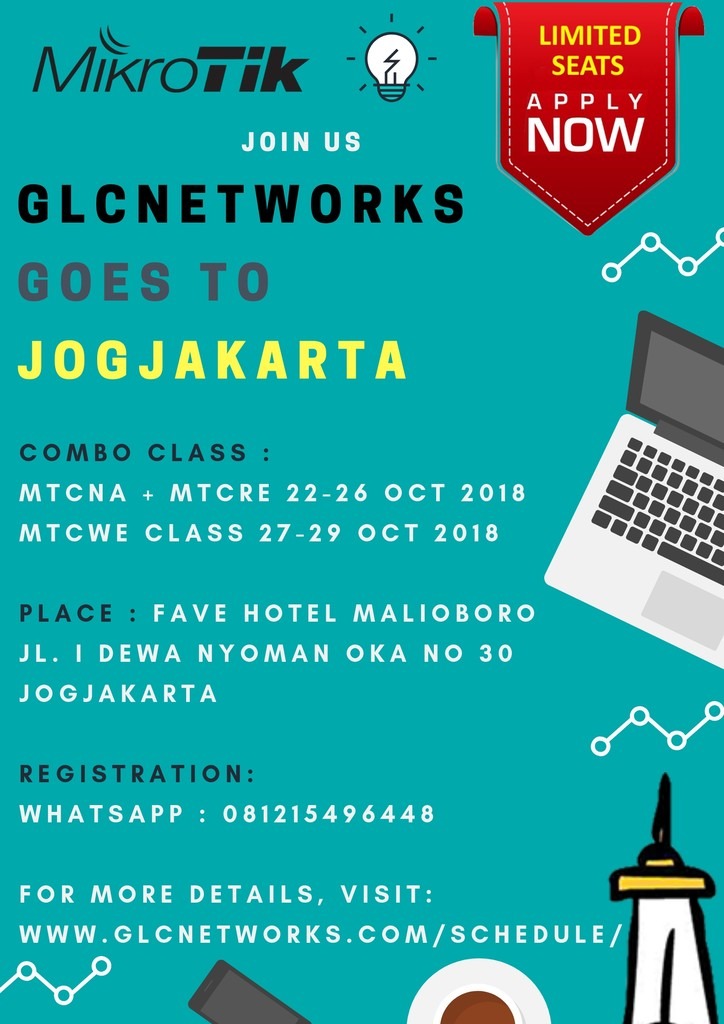 Bookings
Bookings are closed for this event.